Pat Watson's 1988 Ford Econoline
(Place Mouse Over Pictures to see another Picture and Text)
I have owned "Tigermania" since 1999, the paint job was done during the winter of 2002/2003. Under the art work is a 1988 ford Econoline with a 5ltr v8 engine, auto, fuel injected gas guzzler.
This is the second American vehicle I have owned, although American cars have been a part of my life since childhood, my daily driven car belongs to my other half Steve and that is a 1997 Mustang 3.8 V6, no euro box for us.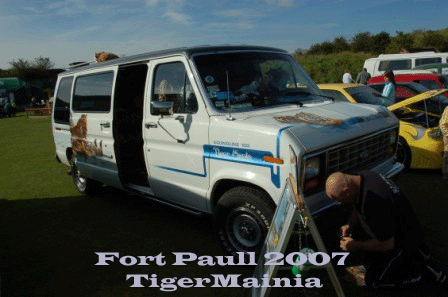 The baby on the hood and on the spare wheel cover actually exist, he is a Sumatran tiger by the name of Rocque (pronounced Rocky) and I have adopted him through the "Born Free Foundation". He was rescued from a Spanish pet shop at 8 months old and he was taken to the Big Cat Sanctuary in Kent. Then, along with some other tigers, he was taken to the 'Bannerghatta Sanctuary' in India during April 2002.
He was 2 when I first adopted him in 2001 and I intend to renew this all of his life (or mine whichever comes first) and he is now settled in a more natural habitat where he belongs.
The interior was re-upholstered by my other half on his own. The van was originally fitted with an electric wheel chair lift and electric sliding door as part of the conversion to a Dayvan in the USA. This is why it has no center seats
The van even has added sensitised power steering and was first purchased on 30th August 1988 as a standard commercial van by Rudi Breakwell-Bos in California and it was sent to Mobility Unlimited Inc. for the full conversion in San Jose California.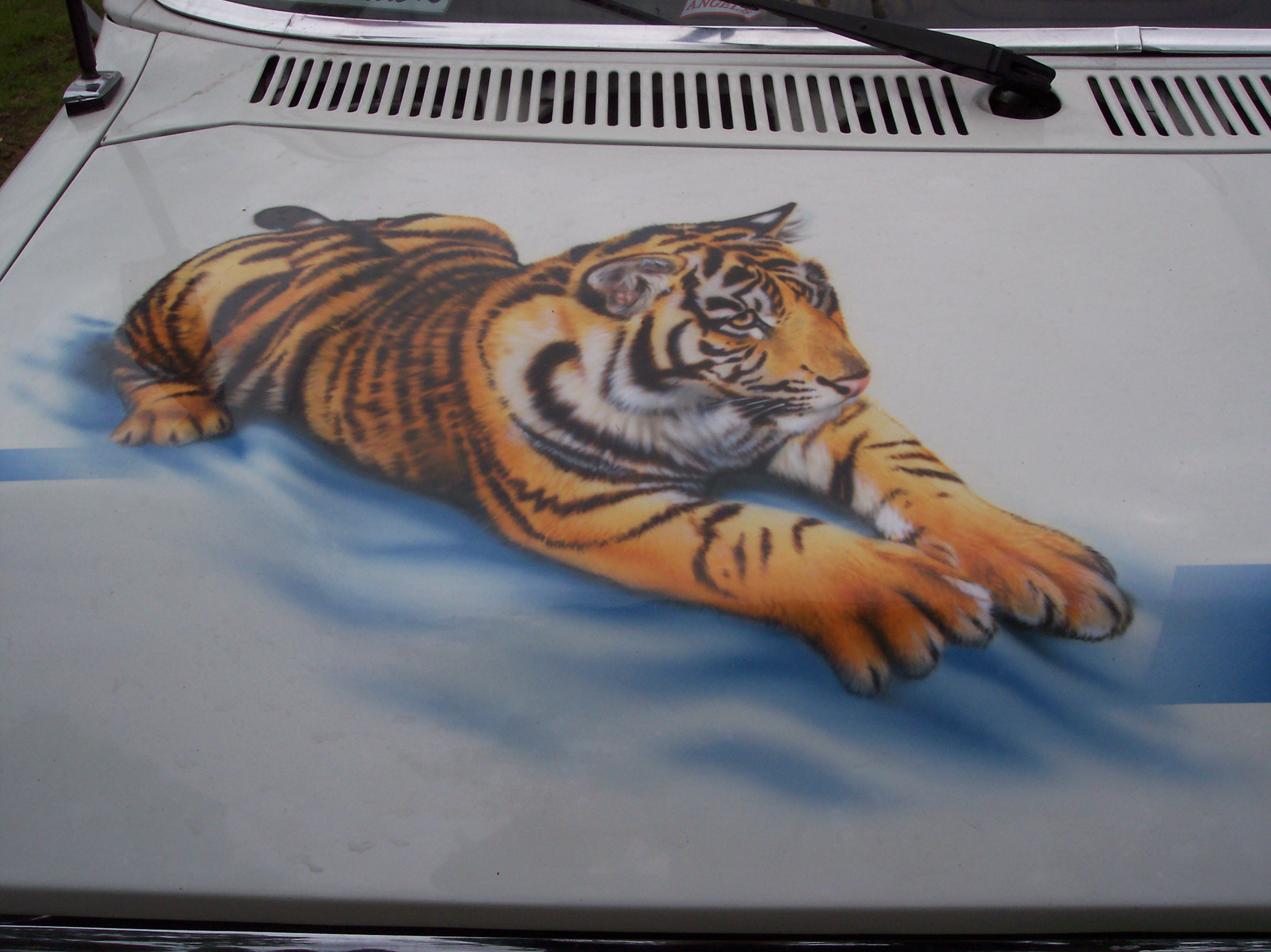 The original quotation on 28th August 1988 was $7357.50 and the final bill on 28th October 1988 was $11,426.95 including running boards and a few extras. The sensitised power steering was fitted at an extra cost of $600.
It arrived in the UK in September 1989 and it has had 2 previous owners including the importer. Below is a picture before the paint job was done.