Chris Walkers 1958 Edsel Pacer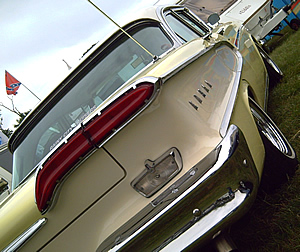 Firstly let me tell you a bit about myself. I have been into this "Hobby" for over 33 years. It all started for me in the sixties as a kid growing up in Australia, where most cars were derived from their American counterparts and V8"s were the norm.
I am by definition a "Hotrodder" who owns an American classic but that is not to say that I don"t appreciate most forms of transport. Hell, I have even been a proper restorer, having restored a couple of E-type Jags and TR6"s they were left hand drive one"s though. I am married to Lisa and have a 5 yr old daughter Megan. (One or two of you might have read the show reports I write on the Edsel Owners website that I run).
Anyway after becoming slightly disillusioned with the Hotrod scene and its emphasis on "what parts you had fitted", and "who did the work" I got the chance to own a 1979 Fischer bodied El Camino. The princely sum of £400 changed hands (the Elky had no engine or box). It had been used as a place for a builder to store his sand and other building materials a fact I found out when I stripped it down, but that"s another story.
After running the Elky for a while and my daughter Megan growing up it was time for something more practical and the engine needed freshening up. I had advertised it in CA and one Sat night received a phone asking if I would be interested in swapping it for a 1958 Edsel 4 door. The faults with each car were explained and arrangements made to swap motors at the Billing Rod Run in June 2003.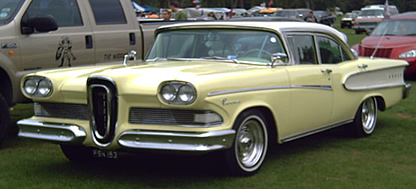 We travelled down to Billing on the Sunday and met up with the in-laws where a much welcomed brew was waiting. During this time Ian Mitchener came over and had a look around the Elky and took it away to show the family. He came back and was happy so the deal was struck, papers signed and keys exchanged. Did I mention we did a car for car swap?
Finishing my brew I said to Lisa that "As I was the new owner" I had better have a look round it. Yep I hadn"t even checked it over although to be honest my father–in-law (Stewart Revill) had looked it over and said it seemed ok, that was good enough for me. The ride home was interesting to say the least, I had been used to the precise steering and controls of the Elky and the Edsel did wander albeit easy to get used to after a while...but best was the amount of room on the inside and in the boot (trunk) it was cavernous. Megan had stretched out in the back, and with no seatbelts fitted, Lisa sat out back with her.
The rest of the journey back to Manchester was accomplished without any major hassle"s and was becoming more pleasurable by the mile. Ian had given me a lot of paperwork with it and this was taken indoors and read with interest as it was basically the history of FSK 153.
It had been imported into the UK in 1990 after being found in a barn where it had been left since the Teletouch had bust - a common fault on 58"s. Upon finding it the excitement must have taken over as they forgot to check the oil and water and duly trashed the engine hence the fitting of the 351windsor engine and C4 box.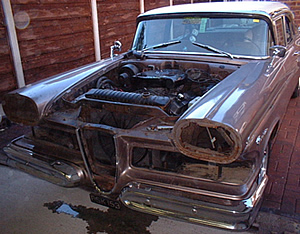 During the first few months of my ownership various jobs were carried out, fitting rear seatbelts, temp gauge, new brakes and gear shifter and changing the original scallop and roof colour to white.
Once the 2004 show season had finished I decided to freshen the Edsel up as I didn"t like the original colour scheme, but as the best laid plans seem to go it turned into a major rebuild. With the garage finished, it would make the job a bit easier. All the work was carried out in this garage including the respray.
Upon getting home from the Steel City Cruisers show in September I started to strip it down in readiness. It was an experience that I would not recommend unless you have a good knowledge of bodywork skills. There are many cars that end up as abandoned projects when the owner takes on too much and can"t finish it. If in doubt get help it is cheaper in the long run and your project will get finished a lot quicker.
All the front panels removed (a total of 19 panels make up a 58 front end). Once back in the garage the rest of the panels, doors boot lid interior engine, gearbox, interior removed leaving the body sat on the chassis. It was at this stage that the actual amount of work could be assessed, what I thought was going to be a quick job looked a long way off...
Everything that could be removed was removed as the idea was to bare metal every panel. First job was to tackle the underneath and after cleaning and stripping, it was given four coats of smooth stone chip and then painted body colour. The chassis again was cleaned, red leaded and then painted gloss black, along with all the suspension and back axle.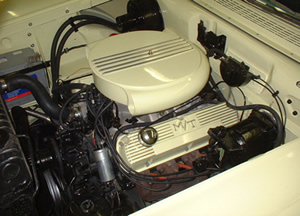 Engine and gearbox were also painted black using household paint, I use this as it is flexible and stands the heat of the engine, is cheaper than engine paint and comes in a greater variety of colours. It"s a trick I have used for years with good results. With all the running gear finished it was time to tackle the body work. First off were the bulkhead, inner wings and front panels. All the holes that were no longer being used in the panels were welded up and ground smooth, primered, flatted and colour painted flatted again and polished.
The outer wings next, a common fault on not only Edsels but most cars is where the accumulation of mud and water gets trapped below the headlamps and rots away the metal. Such was the case here resulting in both front wings needing the old rotted metal removing and new metal welding in. Luckily the rest of the panels only required stripping and some of the many dings and dents removing and they were ready for a few good coats of 2-pack primer.
Many hours of removing the paint back to bare metal followed using a drill and 3M stripit discs. I burnt out three drills and used 12 discs. Along the way some old repairs were re-done and the door edges rebuilt to get a better gap (these cars were not known for their panel fit). Once the panel"s were stripped and altered as required they were refitted time and time again until the fit was right.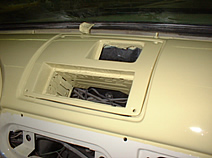 Five coats of 2-pack primer, a guide coat and around 3 weeks of wet flatting later, it was time for some colour. This was where the headaches began. I had already painted the inner wings, bulkhead and interior in the chosen colours.
Most paint suppliers when given the paint code tend to get the colour right and usually my regular shop does, so I had no reason to doubt their ability, especially as they had already supplied 4 litres to me. So I carried on spraying and left it till next day to unmask, stand back and admire my new paint job ...ARRGH ! either my eyes were f***** or it was a totally different colour, no it was definitely a different colour. So back to the paint shop again...many apologies later and back to flatting, re-masking and repainting. The colour was slightly out so I ended up repainting the inner wings and panels, bulkhead, dash and interior panels (easier than trying to match up the paint).
Projects this big take many hours of work and a whole heap of dedication to get this far but when, after all the problems, the months locked away in the garage, the light at the end of the tunnel can be seen it makes it all worth while.. The rest of the rebuild seemed to take forever.
With new side glass supplied by Paul who used patio window glass (flat, toughened, kite marked the right colour and also reasonably priced) new window seals and rubbers, boot seals, door seals and various other parts arriving from C&G Early Ford parts in the USA, work was progressing at a fairly rapid rate.
A new Edelbrock inlet manifold and 600cfm carb was fitted along with an extra cooling fan and a new trans cooler mounted in front of the radiator.
A ten disc CD changer was mounted in the retrimmed boot and the head unit mounted behind the original dash speaker cover with the gauge for the rear air shocks. Stewart had bought me a fibreglass replica Caddy air filter top and I redesigned it using parts of the original Edsel air cleaner some filler and aluminium rod from B&Q the result is a one off air cleaner that"s suits the look I was after.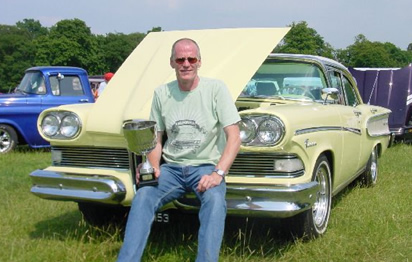 However, with the start of the show season getting near there was no way it would be finished. My father-in-law came over and gave me a lift on several occasions but it was decided not to rush it. Eventually there were no more jobs left to do, the new tyres were fitted and it was time for the MOT... Americana 2005 was only 2 days away and I had hoped to debut it there. It passed with flying colours and so it was finally finished 10 months after starting the rebuild. The rest of the season was spent with the Edsel and my family attending a few shows and then over the winter I decided to upgrade the front brakes as brake fade is no fun when you have a caravan in tow.
So winter 2005 saw the Edsel back on axle stands with the front suspension removed. I had been told that the Vauxhall Carlton /Omega system was an easy swap. Well I can honestly say that it isn"t. New Omega 12 inch vented discs, Calipers, Hubs, servo and dual circuit master cylinder were purchased from E-Bay and then hub carriers, calliper mounting brackets and wheel adapters made up by a local engineering company to my specifications.
The brakes are a 100% better now and with a dual circuit system a lot safer too. There are still some changes/upgrades that I want to do but these will be done over the winter of 2007/8. The modifications planned are, a full air ride set up, possible rack and pinion steering, finally fitting the AOD gearbox I bought last year and a spruce up of the engine. Possibly some new wheels and attend to the paint work that needs attention.