1984 Corvette "Midnight Storm"
Like plenty of others who are into this hobby, sport, pastime, obsession (take your pick) of ours I grew up watching the dukes of Hazard, Nightrider, the A-team etc on TV and was always struck by how the cars looked and sounded.
Fast forward to 1999 and I was left some money by a relative, once all of my current commitments where covered I had a few £££ left over and decided that instead of just looking at the cars in classic american and street machine (Now revamped and selling in shops again-ED) that I would pick a dealer and go and have a look see.
I found a dealer locally enough up in Chorley and headed out, the guy had a number of cars a few 90's Tram's Am's and couple of old school 60's/70's muscle cars also maybe 12 Corvettes. Most of these where out of my price range though there were 2 Vette's a Blue 85 Grand Sport look a like and a Red 84. The 84 being a few hundred cheaper, I got straight on the phone to the insurance company, figured out I could insure them – even at the ripe age of 23 and took the 84 out for a test drive. The dealer drove 1st – turning the car 90 degrees on the spot and taking off up the road at a fair pace – coming from a front wheel drive sub 2 litre eurobox to this sleek and loud road burner was a revelation – I drove the 2nd part of the test drive and after that was sold and had to have it. And I've had it ever since. I ran the car for a few years – it had only done around 500 miles for the 5 years before my ownership – in the 1st year I put over 4k on it – and lots of stuff broke, that 1st year was quite costly but great fun. I joined the UK club and attended their meets in Liverpool.
I started off upgrading the car as and when I could – had the cats removed and a full custom - header back S/S system constructed for it to improve the response and sound plus a few upgrades to the intake etc the result is around 250BHP - not great but good for an 84 plus on a run at a constant 60mph it'll almost crack 30mpg (US gal too) a fact proven when I first went to billing with it – 300 miles almost on just on half a tank of juice.
Then work wise my situation changed and we could afford to be a little more adventurous. As a belated 30th present we decided to get the Vette painted as the hood was a little faded and had a couple of runs in the red (more on that later). At the time I had left the AACUK and joined the AACNW – becoming their webmaster and good friends with the then chairman Mo Cassidy. After a number of conversations and emails we struck upon an Idea, one which would completely change the look of the car.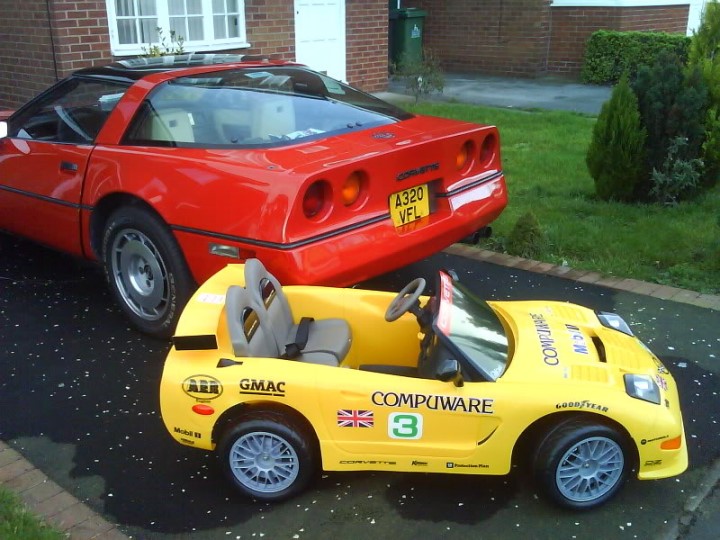 Mo took the car on and in the next 12 months he shaved and filled the rubstrip and painted the car in Midnight Blue. He then added a number of Hand Airbrushed (no vinyl graphics here) murals -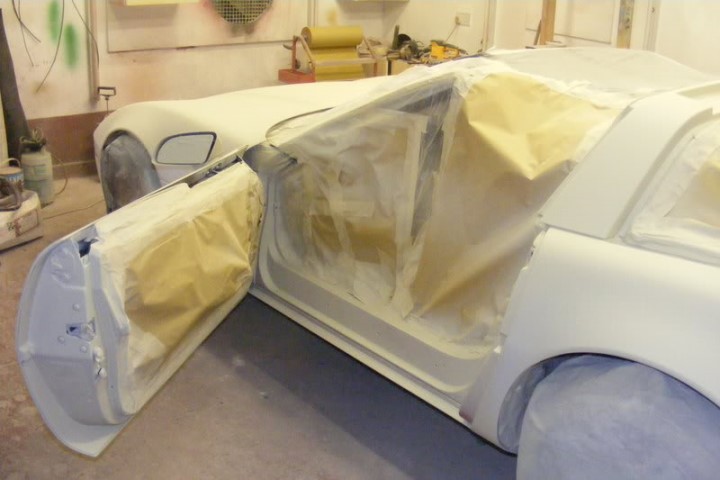 one to each door and a large one on the hood plus some nice details around the corvette badge at the rear and a little sign writing too. Just before I was due to pick the car up Mo had been looking at it in different lights and noticed how the shape made the colour look to change on the front wings. So to add even more depth to the paint job he applied a fade, the car is "High Gloss Jet Black " right at the front and then fades to "Midnight Blue" around about the front wheel arches just about where the top of the mural on the hood is – the car left Mo's workshop as "Midnight Storm" and Mo has said it is most likely the best job he has done (sadly this was the last car to be painted by Mo's Inspraytion business).
The car was looking great but even tho the standard 16" rims where in good order they no longer suited the car. After much deliberation we selected a set of DOTZ Predators in 19"s to go with the styling. The wheels actually have BMW PCD which is 120mm – Corvettes run 4.75" PCD as many Chevy's do which is actually 120.65mm so its 0.65mm out – or 0.325mm (roughly the thickness of a human hair) each side of centre and as the tolerances in casting is nowhere near that they where and have been since a perfect fit.
The car has covered almost 15k since I bought it and even though it throws us a mechanical curve from time to time it's a keeper – even more so since it was transformed.
History
This car was built on Halloween 1984 it is number 51,225 out of a production run for 1984 of 51,547 so it's right at the end of the run with just 322 84's made after it it's probably the latest 84 in the UK – and maybe one of the latest surviving 84's. The car was sold in Wichita Falls in Texas and was spec'd up with a larger capacity radiator to cope with the extra heat I suppose. The second owner in Texas appears to have been Carl E Croft, a US serviceman, who brought the car over to the UK in 1989 (I even have copies of the importation docs for it). It looks like he ran the car here on US plates for a year before having it registered with its current 'A' reg plate. The Car left the factory Bronze on Bronze though sometime in 1993 was painted Red ( I think it was ford pepper red) Which is how it was when I bought it. I'm the 5th UK owner of the car – and as of 2007 the longest lasting owner too.
The car has served as our wedding car in 2003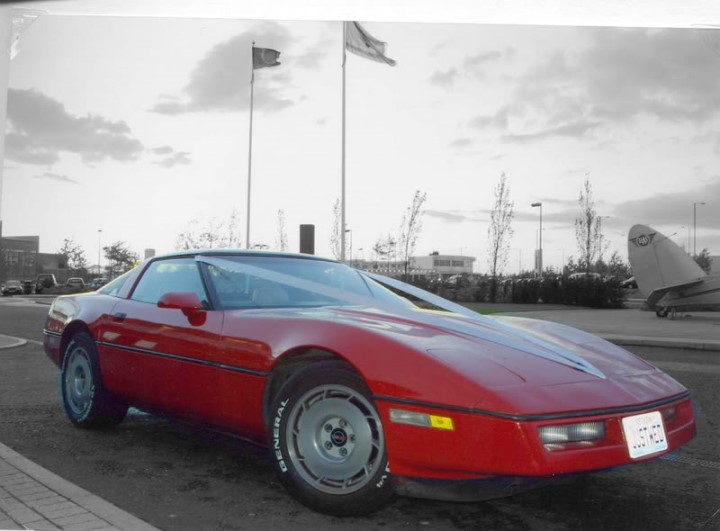 and as with being an enthusiast my wife suggested we have our Honeymoon at the Corvette 50th Celebrations in Nashville in 2003 around 3 months after we got married, what a fantastic thing to do and reason to go to America for our Honeymoon too (that's another long story). This car will be with us for a long long time, as its plastic it will easily outlast me and hopefully will remain in our family for good – where it belongs.
">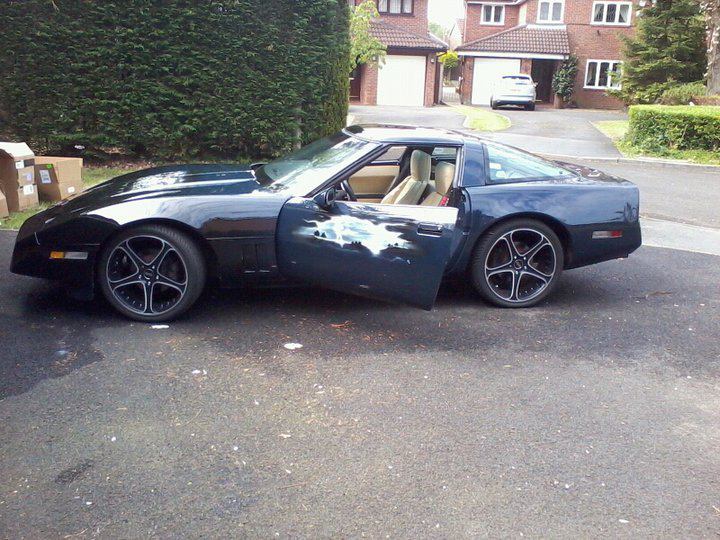 Knottz